The ARN riveting nut is designed to be installed into pre-pierce holes. The riveting section of the nut is folded over the sheet metal using a special die button. This forms the sheet metal into the locking groove of the nut, providing high push out, pull through and torque values, even in very thin sheet materials. The nut can be installed using several different installation methods depending on the sheet material thickness, hardness and installation clearance.
Can be used in sheet metal from 0.4mm to 6mm thick, and is compatiable with Class 8, 9, & 10 hardware depending on application requirements.
Can be used in mild steel (1008/1010) up to ultra high tensile strength materials (HLSA, AHLSA, DULE PHASE AND TRIP). Can also be used in materials such as steel, plastic, & laments (sound deadening material).
Contact Sherex for inch thread requirements."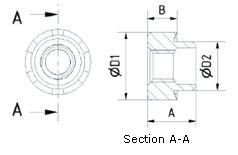 ARN2-580-6.0

N/A

M5

N/A

9.0** (For 2mm sheet metal)

N/A

5.5

N/A

13.0

N/A

9.0

N/A

0.4-6.0

N/A

9.2

ARN2-610-6.0

N/A

M6

N/A

9.0** (For 2mm sheet metal)

N/A

5.5

N/A

13.0

N/A

9.0

N/A

0.4-6.0

N/A

9.2

ARN2-8125-6.0

N/A

M8

N/A

11.5** (For 2mm sheet metal)

N/A

7.5

N/A

16.0

N/A

11.5

N/A

0.4-6.0

N/A

11.7

ARN2-1015-6.0

N/A

M10

N/A

14.1** (For 2mm sheet metal)

N/A

9.6

N/A

19.3

N/A

14.8

N/A

1.0-6.0

N/A

15.0

ARN2-12175-6.0

N/A

M12

N/A

16.0 (For 2mm sheet metal)

N/A

11.5

N/A

23.0

N/A

15.7

N/A

1.0-6.0

N/A

15.9