Small Flange Knurled Body Thin Wall Series

Grip range can be affected by parent material and hole size. Sherex recommends trial installations to determine the proper grip range for the application. Contact Sherex for details.

CAK style nuts are available closed end designs.Other specials available upon request


Passivate available upon request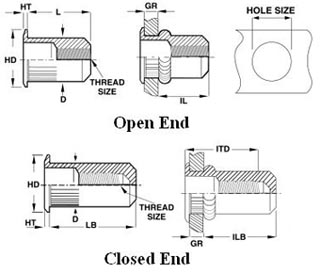 Items may not always be in stock. Contact Sherex for current availability.
3D MODELS ARE NOW AVAILABLE!!
Click here to design your model
CAK1-470-2.0

N/A

M4x0.7 ISO

N/A

0.50-2.00

N/A

10.67

N/A

18.80

N/A

6.75

CAK1-470-3.3

N/A

M4x0.7 ISO

N/A

2.00-3.30

N/A

11.94

N/A

18.80

N/A

6.75

CAK1-580-3.3

N/A

M5x0.8 ISO

N/A

0.50-3.30

N/A

12.07

N/A

25.15

N/A

7.60

CAK1-580-5.7

N/A

M5x0.8 ISO

N/A

3.30-5.70

N/A

14.86

N/A

25.15

N/A

7.60

CAK1-610-4.2

N/A

M6x1.0 ISO

N/A

0.70-4.20

N/A

14.73

N/A

30.23

N/A

10.00

CAK1-610-6.6

N/A

M6x1.0 ISO

N/A

4.20-6.60

N/A

17.27

N/A

30.23

N/A

10.00

CAK1-8125-3.8

N/A

M8x1.25 ISO

N/A

0.70-3.80

N/A

17.53

N/A

35.31

N/A

13.50

CAK1-8125-7.9

N/A

M8x1.25 ISO

N/A

3.80-7.90

N/A

20.45

N/A

35.31

N/A

13.50

CAK1-1015-3.8

N/A

M10x1.5 ISO

N/A

0.70-3.80

N/A

17.53

N/A

35.31

N/A

13.50

CAK1-1015-7.9

N/A

M10x1.5 ISO

N/A

3.80-7.90

N/A

20.45

N/A

35.31

N/A

13.50