Large Flange European Style

Large flange provides increased strength and better containment of round or oversized holes. Unique knurling increases spin out resistance.
Available materials include: Steel
Grip range can be affected by parent material and hole size.
Sherex recommends trial installations to determine the proper grip range for the application.
RoHS Compliant Trivalent Plating available upon request.

Also available with imperial threads - minimum order quantity is 25,000 pieces
Finishes: Zinc Plated-Yellow Trivalent Chromate SFS-01-001, SC2
Special finish or material available upon request

Sherex rivet nuts are compatible with the following hardware:
GRADE 2, GRADE 5, CLASS 8.8, and CLASS 9.8
Please contact Sherex when using other grade fasteners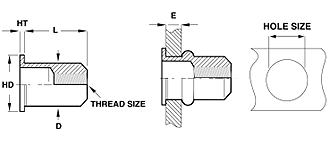 Items may not always be in stock. Contact Sherex for current availability.
TUBTARA® - A DEJOND PRODUCT