The ASN clinch nut is designed to be installed into pre-pierced holes. During installation, sheet metal is formed into an undercut section on the nut collar by the die button and the knurled ring. As a result, the nut has high push out and torque values, and space requirement is minimal due to the small outer diameter and flat installation surface.

The ASN clinch nut can be used in sheet metal applications from 1.5mm to 10mm thick, and is compatible with Class 8, 9, & 10 hardware depending on application requirements.

Contact Sherex for inch thread requirements.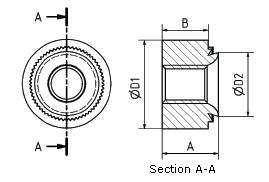 ASN2-1015-1.6

N/A

M10

N/A

7.8** (For 2mm sheet metal)

N/A

7.2

N/A

18.45

N/A

15.05

N/A

1.6 min

N/A

15.1

ASN2-8125-2.0

N/A

M8

N/A

9.1** (For 2mm sheet metal)

N/A

5.47

N/A

12.65

N/A

10.47

N/A

2.0 min

N/A

10.5

ASN2-610-2.0

N/A

M6

N/A

6.6** (For 2mm sheet metal)

N/A

4.08

N/A

11.05

N/A

8.85

N/A

2.0 min

N/A

8.9

ASN2-12175-2.6

N/A

M10

N/A

11.5** (For 2mm sheet metal)

N/A

9.70

N/A

20.00

N/A

15.66

N/A

2.6 min

N/A

16.0