Straight Shank Slotted Body Rivet Nut Series
View and download the 3D model
Sherex's straight shank slotted body rivet nut installs into single, variable or multiple thickness materials. The difference between the prebulbed slotted body rivet nut and the straight shank is that the straight shank is thinner, and the body is straighter, compared to the bigger body of the prebulbed rivet nut. Both offer supreme grip range with its cross nut fastening solution, and both provide superior pull out resistance against other fasteners.
Grip range can be affected by parent material and hole size. Sherex recommends trial installations to determine the proper grip range for the application. Contact Sherex for details.
Can be installed with spin-pull tooling. See Sherex's spin-pull tooling offerings for more details.
Finish: Zinc Plated-Yellow Trivalent Chromate SFS-01-001, SC2. **Special finish or material available upon request!**
Sherex rivet nuts are compatible with the following hardware:GRADE 2, GRADE 5, CLASS 8.8, and CLASS 9.8<./strong>
Please contact Sherex when using other grade fasteners.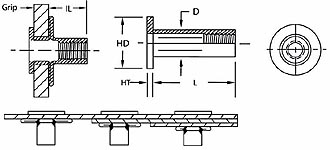 Items may not always be in stock. Contact Sherex for current availability.
CPN2-1024-175

N/A

10-24 UNC

N/A

.020- .175

N/A

.038

N/A

.272

N/A

.425

N/A

.273

CPN2-1024-320

N/A

10-24 UNC

N/A

.175- .320

N/A

.038

N/A

.272

N/A

.425

N/A

.273

CPN2-1032-175

N/A

10-32 UNF

N/A

.020-.175

N/A

.038

N/A

.272

N/A

.425

N/A

.273

CPN2-2520-280

N/A

1/4-20 UNC

N/A

.020-.280

N/A

.059

N/A

.346

N/A

.505

N/A

.347

CPN2-3118-280

N/A

5/16-18 UNC

N/A

.020-.280

N/A

.062

N/A

.437

N/A

.570

N/A

.438

CPN2-1032-320

N/A

10-32 UNF

N/A

.175-.320

N/A

.038

N/A

.272

N/A

.425

N/A

.273

CPN2-3118-500

N/A

5/16-18 UNC

N/A

.280-.500

N/A

.062

N/A

.437

N/A

.570

N/A

.438

CPN2-2520-500

N/A

1/4-20 UNC

N/A

.280-.500

N/A

.059

N/A

.346

N/A

.505

N/A

.347