A Rivet Nut Stud is a 2 piece fastener combining a rivet nut and a screw that is:
Intended for blind installation into thin sheet metal
Custom designed for specific applications in a variety of sizes, styles, materials, and finishes.
To create a custom rivet nut stud, Sherex requires the following information:
Installed Stud Length. Taking into account material thickness (grip) & stud head thickness.
Material Thickness
Stud Strength. PC 8.8/9.8/10.9; Gr 5
N/A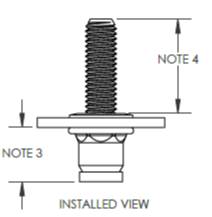 Recommended Installation Tools:Using specially designed headsets for rivet nut studs.
N/A
Can be installed from one side of the work piece, where access to the backside is not possible
Ideal replacement for weld studs

Eliminate spatter, material distortion, and negative toxic fumes and by-products of the welding process

Can be installed into pre-painted material
Ideal for using as a hanging point or a centering pin
Ideal for use in wire harnessing
N/A Market Segment: Heavy Truck OEM
Product: Wedge Head Rivet Nut Stud
This M6 Rivet Nut stud was developed for wire harnessing on a truck frame. The design incorporates a wedgehead feature to increase spin-out resistance and a MAThread® screw for reduced risk during assembly.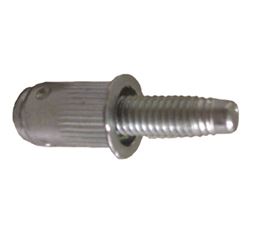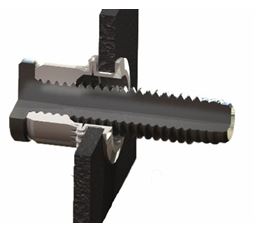 Market Segment: Agriculture Equipment (Ag feeder)
Product: M12 Full Hex Rivet Nut Stud
This M12 full hex stud was developed as a replacement for a weld stud in an agricultural feeder.